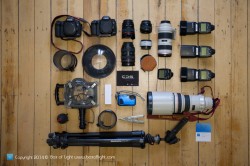 August 16, 2014
Talofa! Box of Light is in Samoa this week. We will be focusing our lenses on the surf and surfers of Upolu's southern coastline – an area renowned for its quality reef breaks. We're travelling with a bunch of surfers from Raglan – some serious rippers – and the swell is looking pretty serious with Tahiti's Teahupo'o Pro set to start on Monday.
While in Samoa we will explore Samoa's coastline with some diving, snorkelling and fishing excursions around the islands. This is our first time in Samoa – it's going to be a marked change in climate from the winter in Dunedin where it was snowing a few days ago.
I'll be shooting with my Canon EF 70-200mm f/2.8L and EF 300mm f/2.8L lenses from the boats and I have three ports for my Aquatech water housing so I can shoot with the Canon EF 14mm f/2.8L, EF 50mm f/1.4 and the EF 70-200mm f/2.8L depending on the conditions.
A huge thanks to Island Holidays, Salani Surf Resort and Tourism Samoa for supporting this trip.
Now, where's that hammock?
Derek