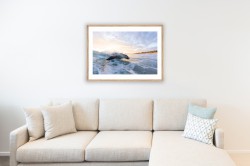 September 1, 2020
Two years ago a photograph of mine won the New Zealand Geographic Photographer of the Year award. It showed three-year-old female sea lion Vega surfing a wave at St Kilda Beach. This year we've decided to give something back to Vega and her mates by supporting our friends at the New Zealand Sea Lion Trust.
So, we're selling a limited edition series of 50 prints of the winning image of Vega. The edition includes 10 large 500 x 700mm natural wood framed pieces and 40 signed and numbered 8x12" mounted prints. For each of the framed prints we'll donate $250 to the New Zealand Sea Lion Trust and we'll donate $50 from each of the 8x12" editions.
Once the edition is gone that will be it. There will be no more produced.
You can order your limited edition image of Vega right here.
Please share on your social media pages as well – every sale helps the New Zealand Sea Lion Trust continue its great work.
If your walls are already filled with art, then you could just donate directly to the New Zealand Sea Lion Trust here.
Thanks also to New Zealand-owned power company Electric Kiwi, who have come on board to support the New Zealand Sea Lion Trust.