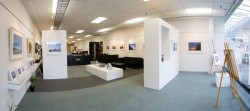 July 1, 2014
Very excited to announce the opening of the Box of Light Gallery in conjunction with our friends at The Photo Gallery. Finally you can get up close and personal with our Box of Light prints featuring beautiful waves, seascapes, landscapes and people playing along our coastlines and mountains.
We've always taken great pride in the quality of the prints and images we produce, but that's hard to appreciate in a 600pixel wide image on your Tuesday report each week (especially with the boss breathing down your neck). So if you've been curious about one of our prints for your wall or to gift to a good friend, then drop in to 84 Filleul Street and see the friendly team there. Tim, Tessa and Amanda are all experts in printing and framing and can show you around the gallery.
If you have a picture in mind that you can't find on the walls or in the mounted prints on display then just ask – we can produce any of the images from Box of Light as required. Mounted prints start from just $49 and we can ship anywhere in the world.
You can find the gallery at 84 Filleul Street, Dunedin. See you there!